What does a Children's Occupational Therapist do?
Occupational Therapists support you to take part in everyday activities, to help you lead a full and happy life, reach your goals and learn the skills you need during your life.
We aim to support you to do the things that you want and need to do as independently as possible. We do this by thinking about you, the occupation (or activity), and your environment. If these three areas are not working together, then it can be hard to do what you want or need to do. The picture below shows how these three areas all work together.

The Occupational Therapy Service at Pavilion House
Here at Pavilion House, we aim to empower you and your support networks (home, school, nursery etc) to access all the information you need, when you need it. There are a lot of strategies and interventions you can try, both at home and school, to help and support with tasks or activities that you might be struggling with.
Our Children's Occupational Therapy service uses a tiered intervention approach (Universal, Targeted and Specialist). Our Occupational Therapists will triage your referral to ensure that you get the appropriate level of support.
Before requesting a referral to our service, you will need to access our Universal Online Support, where you will find a range of strategies to help you. We expect you to have practised the strategies for at least 3 months. If you are still struggling, please contact your GP for a referral and ask your parent, guardian or teacher to fill in this questionnaire and hand this to your GP.
Your referral will not be accepted without this.
However - If you are experiencing pain, unable to sit up by yourself, or require specialist equipment or rehabilitation, you do not have to access our Universal Online Support, instead ask your GP for a referral to our service.
Our Universal Online Support
The Universal Online Support is split into 3 areas:
Play, Leisure and Foundation Skills
Self-care
Education
These are often the areas that children struggle with. You will find a range of useful and interesting information and strategies that you can try. This will hopefully solve your functional difficulties and means you do not have to wait to see a therapist to get this information.
Play is huge part of being a child; it is when you learn and practise new skills, watch and interact with friends and explore and expand your interests. Play can be broken down into different elements, all equally as important during a child's development.
Foundation skills: Movement and Coordination
Movement and coordination are foundations skills that can be learnt during play and that will help your child develop skills for needed for self-care and education.
Types of Play
Explorative Play
This is often the first type of play children engage in. Also known as sensory or messy play – it's when your child is able to interact with their world in a very hands-on way. In fact, all of your child's senses should be stimulated during this type of play. They will examine objects by looking, touching (with hands and mouths), listening and moving them to learn about how they can influence the world around them.
During explorative play, lots of different textures and materials can be used, including water, sand, foam, jellies and play-safe paints. You are only limited by your imagination. Baby wipes and furniture covers are advised!
Explorative play material ideas: https://youtu.be/tKjMPaHXpQA
Functional/Manipulative Play
Also known within Occupational Therapy as cause and effect; this refers to the concept of the child interacting in a type of play where their engagement in a toy or activity results in a physical action. For example, when the child reaches and presses a toy and then it springs open or starts making a sound. This type of play is really important for your child to begin to understand the impact they have on the world around them.
This type of play can also be described as manipulative play. A child uses their hands to manipulate toys and objects to learn about how to use them. This includes construction play, arts and crafts, and tool use (e.g. scissors) and helps to develop eye-hand coordination.
What is Self-care?
Looking after ourselves on a daily basis is an important part of growing up and there are a number of skills to learn. Self-care activities include dressing, washing, teething brushing, toileting, eating and drinking. Children need to be supported to develop the skills to complete these activities independently in a fun and playful environment. Practice is key to mastering any skill and the following tips might be helpful:
Dressing and Undressing
Dressing is an important part of everyday life and it takes a lot of practice to be able to do it on your own successfully. Undressing comes first starting with taking off socks and then removing simple clothing without fastenings. Once this is achieved children start to learn to dress with some help and work out which way clothing should be. Finally, you can start to learn to manage fastenings such as buttons and zips.
Please see below for the Universal Online Support sheets for dressing and undressing:
Eating and Drinking
Mealtimes are an important aspect of family life. Children begin to develop self-feeding skills from birth. Self-feeding is a very complex task and it is common for children to have difficulty using cutlery to feed themselves. It takes repetition and practice before they can successfully use cutlery to feed themselves without being too messy. Practice makes perfect, practice cutting using play dough or plasticine first, progress onto 'soft' foods, like boiled potatoes and fish fingers. When you've perfected this go onto 'tougher' foods such as sausages.
Please see below for the Universal Online Support sheets for eating and drinking:
Toileting
Summary of equipment for home/ school to try: https://www.nhsggc.org.uk/kids/resources/ot-activityinformation-sheets/toileting-equipment/
Personal Care and Hygiene
Please see below for the Universal Online Support sheets for personal care and hygiene
Learning and being productive is vital for children and young people; it gives them a sense of purpose and opens up opportunities. Gaining the skills needed to participate in educational occupations typically begins in infancy, develops through childhood years to be in place by adolescence, enabling the young person to fully focus on academic learning.
Many of the play and movement skills already mentioned, such as fine motor, crossing midline, bilateral integration and sitting well, are the foundations to effective performance in educational activities and can often be the root of difficulties in handwriting or scissor work. Therefore, the advice in those sections above may help you.
When learning any new skill having motivation and attention on the task is vital for success, this is particularly relevant to educational occupations due to the level of complexity, the potential for distraction, and the pressures of time and social expectations. Try to involve topics of interest to your child to make it more fun and start off with short bursts of activities!
Handwriting
Handwriting is a very complex skill involving sensory perception, visual-motor integration, motor planning, fine motor control, cognition, postural stability and attention.
It's important to remember that if your child's attention difficulty is affecting their handwriting that is what should be addressed first - see attention section below, or input from CAMHS.
Early Skills
Development of handwriting – It is important to recognise the order in which handwriting develops, and use this to guide the type of activity for your child. If a child is delayed with their understanding or communication their handwriting development would be expected to show a similar level of delay.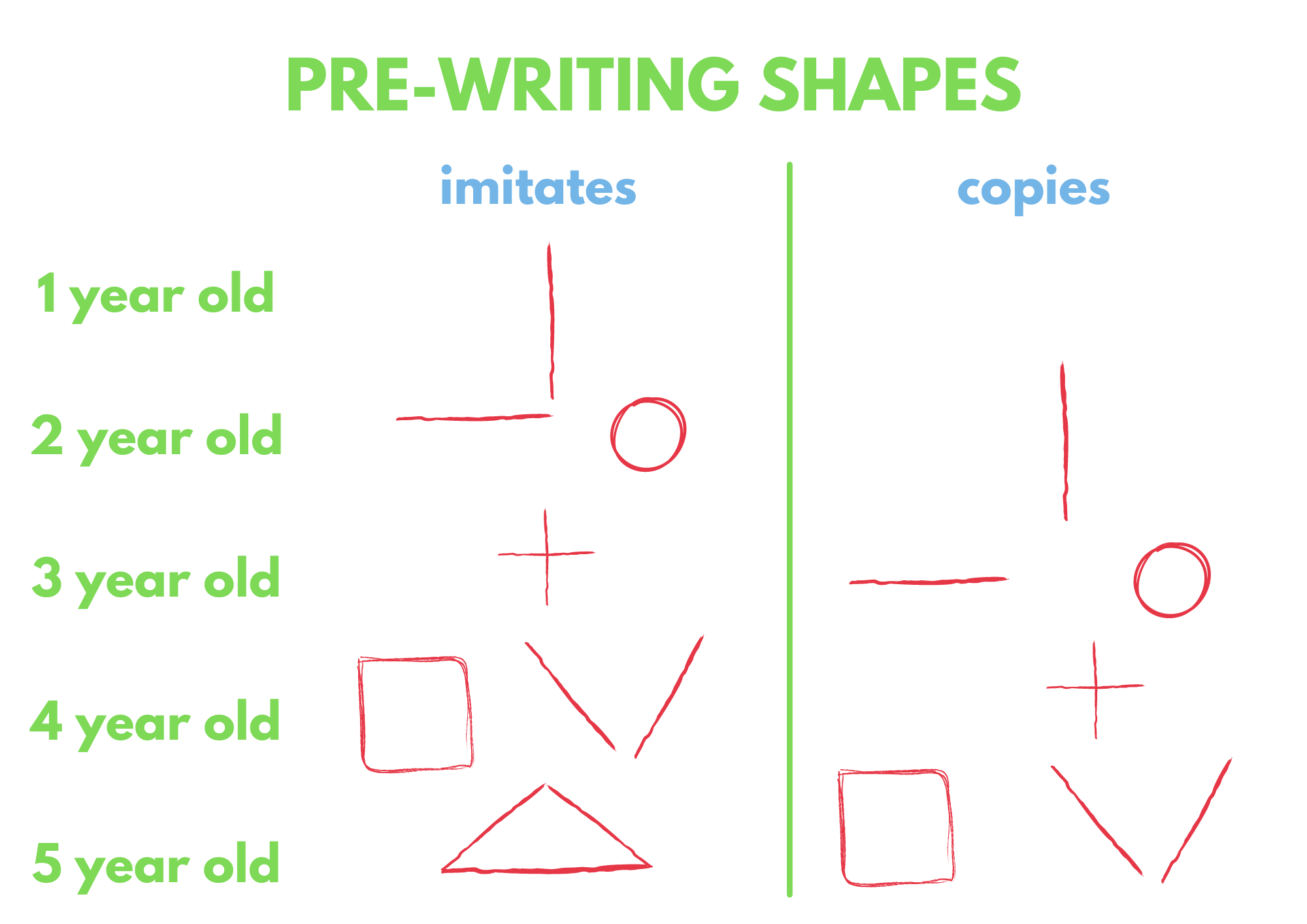 Pencil grasp - a child's grasp typically develops in stages from using a whole-handed grasp to dynamic tripod grip and is complete by age 6. Though the tripod grip is seen to be the most efficient, for some children an adapted grip (if comfortable and functional) is appropriate and so this is not necessarily a cause for concern.
Developing Skills
As handwriting develops the focus switches to letter formation, letter size, spacing between words, alignment on the page, and ultimately fluency.
Further Resources
These externally produced videos may be useful at home or in education:
Scissor Skills
Learning to cut with scissors helps build hand strength, develops hand-eye coordination, strengthens bilateral coordination (use of both sides of the body) and can help focus attention. These factors all mean that as well as being fun and opening children up to a world of creativity, using scissors is also good for developing skills used in handwriting and other tools later in life.
Development of scissor skills begins with tearing paper, then children learn how to open/close and maintain the correct grip of scissors, before moving onto snipping, cutting lines, cutting simple shapes and then more complex shapes.
Attention
Attention is important as it helps children to listen, understand and focus on the tasks involved in learning and participating in all areas of daily life. Difficulties with attention are often noticed as fidgeting, difficulty sitting still, being easily distracted, daydreaming or appearing 'naughty'.
Organisation
Organising oneself requires the integration of skills including cognitive planning, motor planning, body awareness and timing. Children have to consider what actions are needed for a particular task, how to organise those actions and how to perform them in the right order.
Difficulties with organisation may be noticed if children struggle with 'personal space', moving around the classroom or dressing themselves, in this case try activities to develop their body awareness (see Play and Leisure section). As children get older it may become apparent when they struggle to gather items needed for a task, to manage their belongings at school and with their timekeeping or homework.
Everybody has sensory differences which can impact their ability to take part in everyday activities; currently at Pavilion House Children Occupational Therapy services, we do not provide sensory assessments, sensory integration therapy or sensory advice.
Please see below for strategies and support that might help manage your child's sensory needs:
If your child is struggling with the following areas, please speak to the education provision, GP or CAMHS:
Dysgraphia

Dyslexia

Dyscalculia

Attention/behaviour difficulties
Local Authority Occupational Therapy Service:
This service accepts direct parent referrals for children who have long term needs and require adaptions to their property to support them at home:
Telephone Number: 0300 123 5010
Where will my child be seen by an OT?
Your child will usually be seen in clinic at Pavilion House, Macclesfield. But we can see your child at home, school or nursery if appropriate.
What will happen at the first appointment?
You will meet the Occupational Therapist.
We will chat with you and your child about the difficulties they are experiencing with their everyday activities.
Your child may have a formal assessment or may be observed playing with toys.
If your child has any Occupational Therapy needs, we will discuss their functional goals and how we can help your child achieve them.
What should I expect from Occupational Therapy?
OT's like to work jointly with home, school and nursery to help your child achieve their goals.
OT may provide some group or individual intervention if it is needed.
We may provide a report of your initial assessment, progress, and can supply evidence towards your child's EHCP if requested.
What if English is not my first language?
Please let us know as soon as possible before your appointment and we can arrange an interpreter, alternatively you can choose to bring a family member to interpret for you.
When will my child be discharged from the OT service?
Your child will be discharged from the service when they have achieved their goals or have strategies in place to help support their long-term needs.
If you fail to attend your appointment, or cancel 2 consecutive appointments ( unless for illness) your child will be discharged from the service.
Other NHS services
Condition-specific sites
Charities and organisations