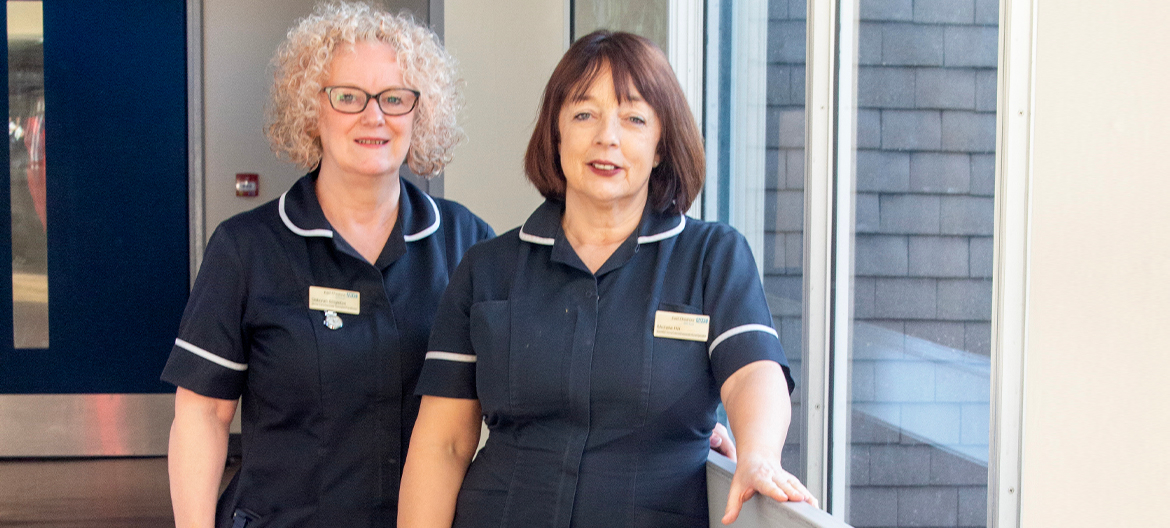 A stoma is a surgically created opening on the front of your abdomen. It diverts your faeces or urine into a bag on the outside of your body. There are many different illnesses that may result in stoma formation. These include Cancer, Crohn's disease, Ulcerative colitis, Diverticular disease, Faecal incontinence, Acute trauma.
Stoma Care Team
East Cheshire NHS Trust's Stoma Care Team, consists of two qualified and highly experienced stoma care specialist nurses who provide first-class personal care to all individuals who have a stoma. You will never be discharged from the care of the stoma team as long as you have a stoma.
Aim of the service.
The service provides counseling advice and support, before, during, and after surgery to our patients and their families.
We also provide training for nursing staff in the hospital and community.
Home Visits
You will be offered two home visits whilst recovering from your operation. Following this, you will be invited to attend outpatient appointments to continue with the training and support both physically and emotionally.
Follow-up appointments
For our follow-up appointment patient's we offer clinic appointments at the Outpatient's Department at Macclesfield Hospital on the following days and times throughout the week:
Monday 13.30-16.00
Tuesday 9.00-16.00
Thursday 13.00-16.00
Friday 13.00-16.00
Stoma care clinics are available throughout the week on an appointment-only basis. Please contact the Stoma Team to arrange an appointment.
Contact details
You can call the team directly on 01625 661598 (Monday to Friday 7.30 -4.00)
You can also leave a message on the answerphone and a stoma nurse will get back to you.
Alternatively, you can email ecn-tr.Stoma@nhs.net
Out of hours
If you have any issues or problems please contact the Stoma Care Team during their working hours. However, if you have a problem out of these hours that requires urgent attention please contact your GP or A&E department.
Problems that require urgent attention are;
· No stoma output for 12 hrs; ileostomy
· Blood in the stoma bag; either colostomy or ileostomy
· Very watery output for more than 24hours; ileostomy
· Signs and symptoms of dehydration are; headache, dizziness, thirst, reduced urine output. Dark urine, cramps, and tingling.
For more information please see our leaflets or use the links at the top of the page.
Further information