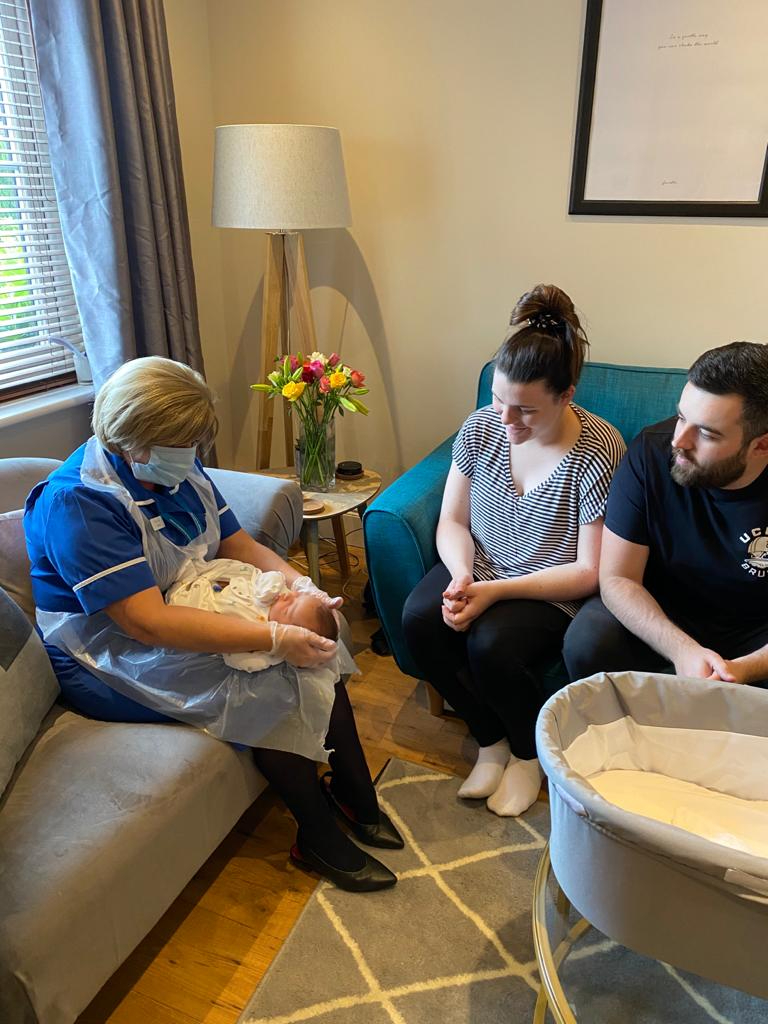 Maternity Service Update
5th February 2021
Following yesterday's public trust board meeting, we would like to share that despite the ongoing Covid-19 pandemic, the Board has reaffirmed its commitment to reinstate full maternity and neonatal services at Macclesfield Hospital in September 2021.
As many of you will be aware, we were required to temporarily suspend births at Macclesfield Hospital last March due to Covid-19 pressures. One of the main challenges we faced was limitations within our intensive care unit, which almost overnight, had to be divided into two separate areas in order for us to care for Covid-19 positive patients and Covid-19 negative patients. These added pressures meant we were unable to also operate and staff an emergency maternity theatre.
In addition, the number of Covid-19 positive patients admitted into our hospital beds has required additional capacity to be provided.
In yesterday's meeting, it was announced that the Board has committed around £2m to upgrade our intensive care unit which will enable us to safely manage Covid-19 and non-Covid-19 patients in one location. The timescale for delivery of this scheme has been estimated at around six months and the success of this will be a key factor in the return of the maternity services later this year.
Until then, we will continue to offer local access to antenatal care and women of East Cheshire will continue to have the choice of giving birth at neighbouring hospitals Leighton, Stepping Hill and Wythenshawe. Our home birth service is also fully reinstated for those who would like to choose this option.
John Wilbraham, Trust Chief Executive said: "It has always been the Board's intention to return maternity services as soon as we can safely do so, but none of us could have predicted the longevity of Covid-19 and the impact it has had on other services.
"We are taking every step possible to keep patients and staff safe whilst working to achieve the return of our full maternity service by September 2021.
"We would like to thank host partners for continuing to provide high-quality maternity services to the women of Cheshire East, where feedback from new mums giving birth continues to be positive. I would particularly wish to thank and acknowledge the hard work of our staff who are temporarily redeployed to other trusts."
We appreciate that the further suspension will be disappointing for women who were hoping to give birth at Macclesfield in the next six months and we offer our apologies to those affected.
We will continue to work closely with our host partners to provide high-quality maternity services during the ongoing temporary suspension and our midwives will be contacting all women affected to discuss the best option for them. If you have any concerns or would like to speak to a midwife, please don't hesitate to contact us on Ecn-tr.maternity@nhs.net or 01625 661145
The full public board paper is available to view here and we will share any further developments in due course.
_______________________________________________________________________________________
Privacy Notice
Confidentiality affects everyone: East Cheshire NHS Trust collects, stores and uses large amounts of personal data every day, such as medical records, personal records and computerised information. This data is used by many people in the course of their work.
For further information read our Privacy Notice
_______________________________________________________________________________________
​​​Maternity service changes at Macclesfield Hospital - March 2020
Please note that in order to meet pressures relating to Covid-19, births are being temporarily relocated from Macclesfield Hospital to neighbouring maternity units as a safety measure.
The measure is necessary because East Cheshire NHS Trust, which runs the hospital, has a small number of anaesthetists who would be unable to provide cover both for maternity-related procedures such as emergency caesarian sections and an expected rise in patients being treated for Covid-19.
Any women due to give birth at the hospital from Wednesday March 25th 2020 onwards will instead deliver at one of our partner trusts close to their home.
Women should have been contacted by their midwife but if anyone has not or has any urgent queries or concerns, including relating to the onset of labour please contact one of the following:
For Stepping Hill Hospital Labour Ward:0161 419 5551 / 3
For Royal Stoke Hospital Labour Ward: 01782 672300
For Leighton Hospital Labour Ward: 01270 612144 / 01270 273116
For Wythenshawe Hospital Labour Ward: 0161 291 2945
Choosing where to have your baby
Giving birth is generally very safe for both you and your baby, wherever you choose to have your baby. Your midwife can discuss your options to give birth at home, in a Midwifery led unit or in an Obstetric led unit.
Midwife led unit or birth centres are more 'home like' and relaxing, they can be in or next to the hospital. Here at Macclesfield our midwifery-led rooms are within the main Maternity unit.
Obstetric led unit or the labour wards have more facilities for high-risk pregnancies. These tend to be the main ward in each hospital. Here at Macclesfield our labour wards are in the main hospital situated next to the midwifery-led rooms in the Maternity unit.
Read more - Pregnancy and Coronavirus
Maternity Safety for BAME women
The maternity safety information for BAME women is now available from NHS England.
This aims to support women from Black, Asian and Minority Ethnic backgrounds using Maternity services. This information builds on existing COVID-19 specific messages highlighting the need for extra vigilance of complications while pregnant.
Available in 11 languages. Scan the QR code on the image below or click here.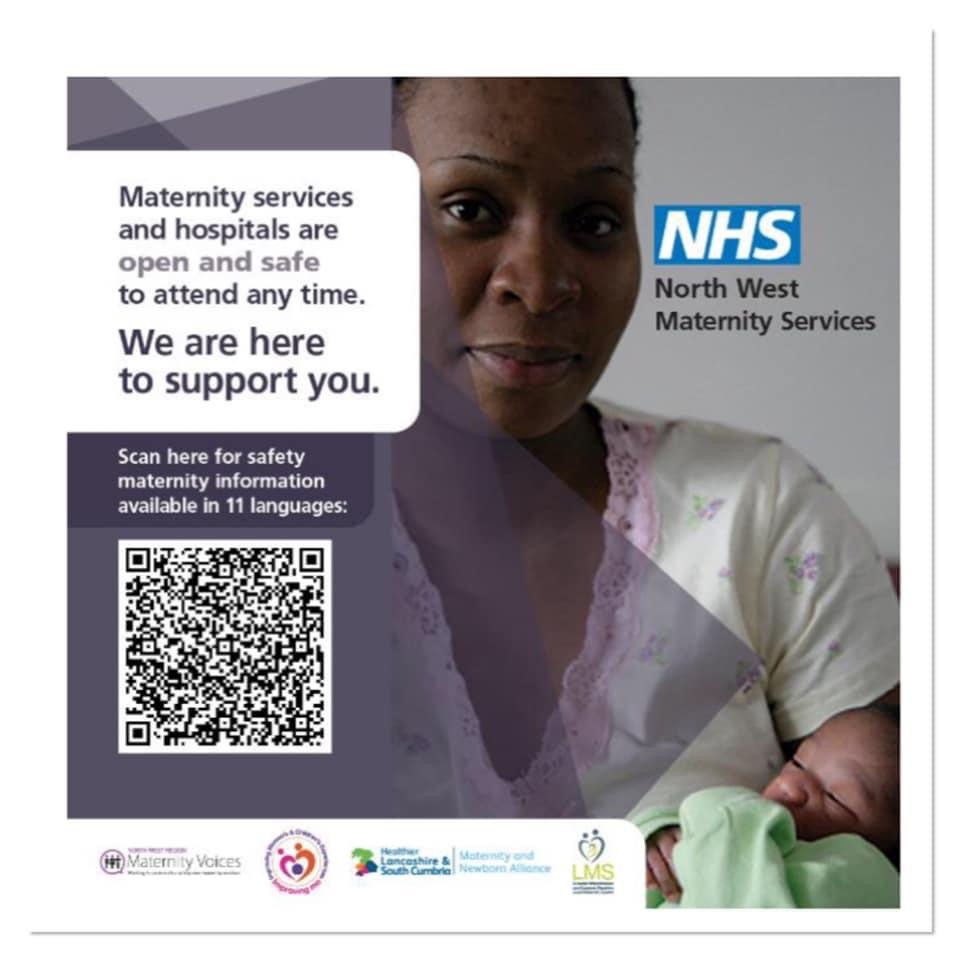 Choosing where to have your baby:
https://www.nice.org.uk/guidance/cg190/ifp/chapter/Choosing-where-to-have-your-baby
Mode of delivery
For most women a straightforward normal vaginal delivery is reasonable and achievable. For some women with complications that put them into a high risk category, they may need certain interventions. For more information please speak to your midwife on 01625 661145
Read more:
Assisted vaginal delivery https://www.rcog.org.uk/en/patients/patient-leaflets/assisted-vaginal-birth-ventouse-or-forceps/
Choosing a caesarean section https://www.rcog.org.uk/en/patients/patient-leaflets/choosing-to-have-a-caesarean-section/
Elective/Emergency caesarean section https://www.nhs.uk/conditions/caesarean-section
My birth choices after caesarean section https://www.rcog.org.uk/en/patients/patient-leaflets/birth-after-previous-caesarean/
Maternity services
Our philosophy of care demonstrates a mother; partner and baby centered maternity service, which is designed to meet individual needs and wishes throughout pregnancy, childbirth and the early days of parenthood.

Our maternity service believes in the importance of promoting normality in pregnancy, labour and the postnatal period. The service will strive to maximise continuity of care and carer, one to one midwifery care throughout labour and the promotion of breastfeeding.
Our commitment
Through our commitment to individualised care we will present the care options available to enable informed choice. These options will reflect clinical and cost effectiveness, public health initiatives, user evaluations and user involvement within the Maternity Voices Committee.

Fundamental to our service is the flexible integrated teamwork of midwives, general practitioners, obstetricians, paediatricians and other individual services working in partnership with women and their families. Care planned will be recognised and respected by all staff.

Through robust management and leadership the service will continue to offer quality care for women, partners and their families choosing our maternity service.
Informed Consent
In order for you to make decisions about your choices during your pregnancy, we will provide you with all the latest information to help support and inform your decisions. The information provided should include the benefits and risks, and whether there are reasonable alternative options. The information may be in leaflet form or direct you to a recommended website or link. Your choices can be discussed at any time during your pregnancy with either your midwife or obstetrician.
Maternity Service Evaluation
Please help us to evaluate and improve the care we give by completing this short evaluation form. We welcome any feedback in relation to the quality of our maternity services and would really like to hear any comments, compliments or complaints you may have. You can complete this form anonymously, or add your name and address at the end of the questionnaire if you require feedback.
Thank you in advance for your help.
Please click here to give your feedback.
​​​​​​Our services
East Cheshire NHS Trust Maternity services offer the following:
Antenatal care
Early Pregnancy Assessment Unit
Macclesfield Birth Centre
Postnatal care
Midwifery Teams
Neonatal care

Professional Midwifery Advocate

Maternity Voices Partnership

Private Midwifery Care
Physiotherapy
Please click to view - Physio exercises and advice for pregnancy labour and beyond
For more information please see leaflets